AP Jagananna Amma vodi Beneficiary List and AP Ammavodi Status check for payment at jaganannaammavodi.ap.gov.in website…..
After assuming power, the Chief Minister set the wheels rolling with a presentation of the budget for 2019-20.  A substantial amount of money was allocated for the Amma Vodi project that includes a commitment to offer Rs.15k per year to all eligible mothers in Andhra Pradesh who will enroll their children in school. In this post, we are going to have a look at what Jagananna Amma Vodi scheme entails.
Purpose of Jagananna Amma Vodi Scheme
Jagananna Amma Vodi Scheme intends to fund the promise of offering financial assistance in order to support the school attendance of children aged between 6 and 14 years. The financial assistance is also made available to children who are attending intermediate schools. All eligible mothers in Andhra Pradesh regardless of caste will receive Rs. 15,000 each year. Initially, the scheme was meant to fund children education until high school. This scheme amount will be credit to the student mother's bank account.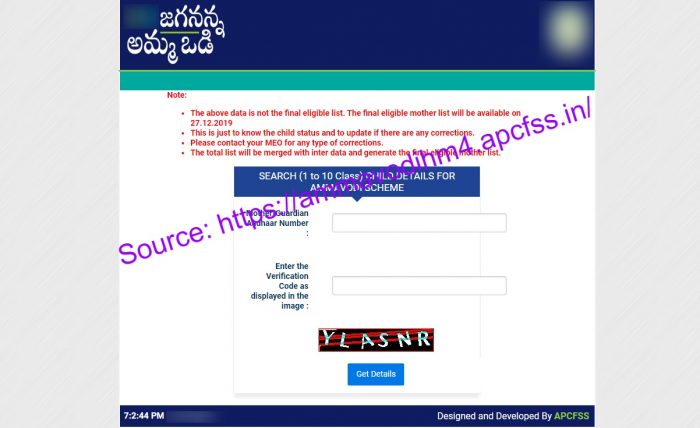 Key Features of Jagananna Amma Vodi Scheme
Being a welfare scheme, it is important to know what is in store for you in order to get the most out of Jagananna Amma Vodi project. Here are some of the key features you should know about.
The Chief Minister of Andhra Pradesh will offer Rs.15,000/- per year to mothers who send their children to school.
Jagananna Amma Vodi Scheme is eligible for children coming from BPL families.
All funds from this scheme will be transferred directly to the bank accounts of beneficiaries.
A minimum of 75% attendance is mandatory from the date of joining.
You will receive the funds during the month of January every year until your child is done with his / her intermediate education.
Once done with intermediate education, students can no longer benefit from the scheme.
How to Check AP Jagananna Ammavodi Beneficiary List
In order to make things easier, the State Government of Andhra Pradesh has introduced Jagananna Amma Vodi Website from where you can access every piece of information you need regarding the scheme. Here is a systematic guide on how to check Jagananna Amma Vodi Scheme first beneficiary list online.
You will first have to visit the official website of Jagananna Amma Vodi Scheme using http://jaganannaammavodi.ap.gov.in/ as the URL.
Once in the portal, you should search for '1st Beneficiary Link List' after that click on it.  This action will redirect you to a new page on the website.
Next, select your District Name in the page that appears on the screen of your device
You can now be able to check the name PDF File
How to track AP Ammavodi Status check at jaganannaammavodi.ap.gov.in
Follow the below guidelines everybody must know the tracking process on AP Jagananna Ammavodi Status…..
Viewers first of all visit this URL: https://ammavodihm4.apcfss.in/searchUidActionForm.htm
After that you can see 'Search (1 to 10 Class) child details for amma vodi scheme'.
Fill the empty blank of 'Enter the Mother / Guardian Aadhaar Number'.
Finally Enter the Verification Code as displayed in the image (Captcha Code). Click on 'Get Details'.