How to Download CRPF Pay Slip 2022 and How to CRPF Login at https://crpf.gov.in or essp.crpf.gov.in website…
Members of the Central Reserve Police Force (CRPF) no longer have to go through a lot whenever they want to get their hands on their pay slip. Now more than ever, they can access this all-important document without moving a muscle. That's possible thanks to the CRPF website where they can access a wide range of services.
But as is the case with any other site, you need to understand what you need to do before you can finally leverage it to your advantage. To ensure you have a remarkable experience, today we will share what it takes to complete the CRPF login and CRPF pay slip download process.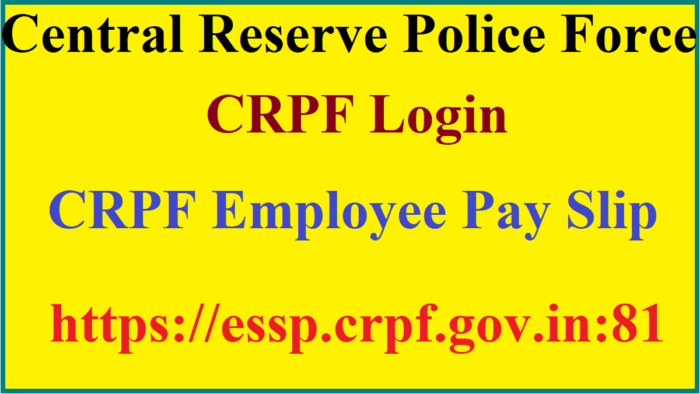 How to Logon into CRPF Login and How to Download Your CRPF Pay slip at essp.crpf.gov.in
You will first have to visit the official website of CRPF – https://Crpf.gov.in or https://essp.crpf.gov.in:81
On the portal's homepage, click on the 'Employee Login' tab
The above action redirects you to the login page. Here, you have to correctly type in your 'Home CRPF Pay slip ID' in the space set aside for this detail
Now enter your set 'Password'
Type in the 'Captcha Code' as it appears on the image before clicking on the 'Submit' button to access your account
Select the 'Month' and 'Year' for which you want to download the pay slip
Click on the 'View' button and your CRPF pay slip will be displayed. Hit on download
Finally, click on the 'Print' button to take a printout for future reference
How to Login CRPF web portal and How to Generate CRPF Employee Pay Slip at essp.crpf.gov.in?
How can i Login CRPF website i.e essp.crpf.gov.in?
Just go through the https://crpf.gov.in/. Then hit on 'Employee Login'. It is going through another web portal. After that you should enter valid employee details then login.
How can i download the CRPF Employee Pay Slip at essp.crpf.gov.in:81?
Every CRPF employee must logon into https://essp.crpf.gov.in:81 website. Then search for 'Pay Slip' service. Hit on it. After that you must choose the respective month. Then download the pay slip.
With the introduction of the CRPF portal, employees now have a reason to smile. After all, they can check their monthly pay slip and other services anytime, anywhere. Hopefully, this guide will ensure you have an easy ride when checking your CRPF Pay slip.