NDHM Health ID (PM Health ID) – National Digital Health Mission NDHM Online Registration Process at healthid.ndhm.gov.in or nha.gov.in website via Aadhaar or Driving License…..
The National Digital Health Mission (NDHM) in India plays a vital role in creating the perfect ecosystem for supporting universal health coverage in the best way possible. That comes as good news to many since beneficiaries enjoy efficient, accessible, and timely health coverage. Better, it helps enhance the quality and dissemination of health data collection.
But as advantageous as it might sound, you will first have to complete the NDHM PM Modi Health Card registration process. Fortunately, this should never be the underlying reason behind your woes since you can handle everything online.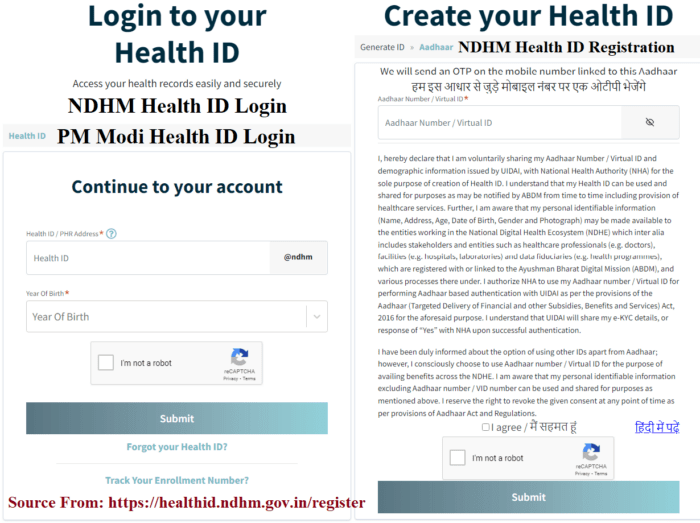 National Digital Health Mission – NDHM Health ID Online Registration (PM Modi Health ID) at healthid.ndhm.gov.in or nha.gov.in
To ensure you have a smooth ride, below are the simple steps to follow when looking forward to applying for PM Health Card online registration process.
First things first, you need to visit the official website of the National Digital Health Mission – https://healthid.ndhm.gov.in/register or https://nha.gov.in
The above URL will take you to the portal's homepage.  Here, click on the 'Download NDHM ID App' link
Download and install the app, after which you should open it
Now click on the 'Registration Form' option that appears after opening the app. You can now be able to see the registration form on the screen of your smartphone
Fill in your Name and Registered Mobile Number in the given space and click on the 'Register' button
Just type the one time password and then hit on verify it.
Correctly fill in all the mandatory details in the form and upload the relevant documents
Go over the details you've filled in the form before you can finally click on the 'Submit' button to complete the application process
As long as you know how to go about it, you will complete NDHM Health ID Card online application from the comfort of your home. So, what are you waiting for to start the registration process!